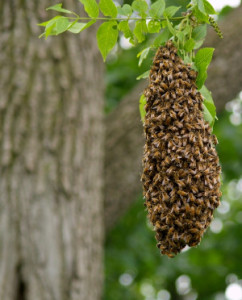 In the spring and early summer, colonies of honey bees may decide to "expand" for various reasons. Typically the colony "feels" crowded and there is not enough space to either store pollen and honey, or the queen to lay eggs to create more worker bees. When this happens the hive begins the process to divide.
This division allows one portion of the colony to stay in place and the other portion will "Swarm" or leave and look for a new location. Their journey begins by the queen and a large number of bees physically leaving the colony and collecting in a nearby place. The majority of the bees surround the queen to protect her and keep her warm while "Scout" bees go looking for a suitable place to build their colony. Once the scouts return and they decide on their new home, the swarm of bees will head towards the location. Once the queen enters the new location, the rest of the bees follow and start building honey comb to raise their young and store food for the coming winter.
When you see a "football" of bees hanging from a tree limb, or on a tree, or some other structure or even on the ground…you have seen the beginnings of a new colony! The bees are typically gentle, they ate their fill before leaving the hive to be able to survive until the new hive has been built. Please don't destroy the bees, call a beekeeper instead and ask them to. . . "come and capture the swarm."
Please use our Beekeeper Locator Map to find an available beekeeper in your area.
If you have further questions please contact Brett at 414-588-8348